Colored Contact Lenses
Colored Contact Lenses from Our Optometrist in Lebanon, MO
Colored contact lenses are more than just a fashion statement. When prescribed by an optometrist, your colored contacts can do wonders in helping you see clearly! At Butler Eye Care, our optometry care team in Lebanon, MO, is here to help answer your questions about colored contacts. We can help determine if they're a good fit for your lifestyle and more! Below is everything to know about colored contact lenses for your vision.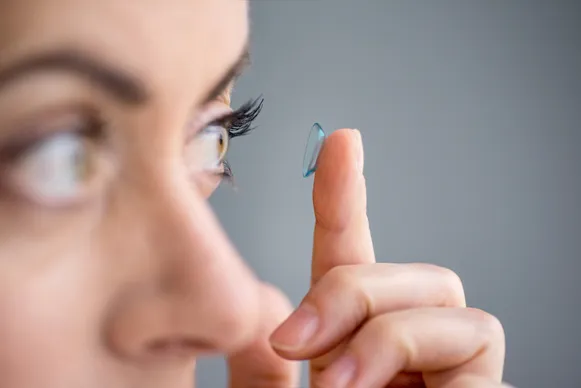 What Are Colored Contact Lenses?
Colored contact lenses are like regular contacts but with a bit of color. Depending on the type of lens you choose, this can range from subtle changes that make your eyes appear more vibrant to completely changing your eye color. Colored contacts have become increasingly popular in recent years for both fashion and corrective purposes.
Does Our Optometrist Prescribe Colored Contact Lenses?
You need to get a prescription from our optometrist to wear colored contacts. Then, ensuring a proper lens fitting and help, you choose the right color and style that works best with your unique eye shape.
What Types of Colored Contacts Are Available?
Corrective, Plano (non-corrective), and theatrical are three types of colored contact lenses. Corrective lenses are prescribed for vision correction in all colors. Plano lenses are used for cosmetic purposes without needing any vision correction, and theatrical lenses are designed for special occasions, such as Halloween costumes or plays.
Are there Different Shades of Colors Available?
Depending on the lens you choose, many colors are available. With some non-corrective lenses, you can mix colors for a truly unique look. Ask our optometrist or eye care specialist for advice on which lenses will work best with your eye shape.
Are Colored Contacts Safe?
Colored contact lenses are generally safe when prescribed by our optometrist and used according to our instructions. However, it is essential to know that cheap colored contacts from unknown sources may not meet safety standards. Therefore, it is always best to purchase your colored contacts from a trusted source like Butler Eye Care in Lebanon, MO.
Get Your New Contact Lenses Today!
To learn more about the benefits of colored contact lenses or to schedule an appointment with our optometry care team, contact us at (417) 991-3200 to schedule a consultation. We look forward to helping you find the perfect eyewear solution for your vision needs!